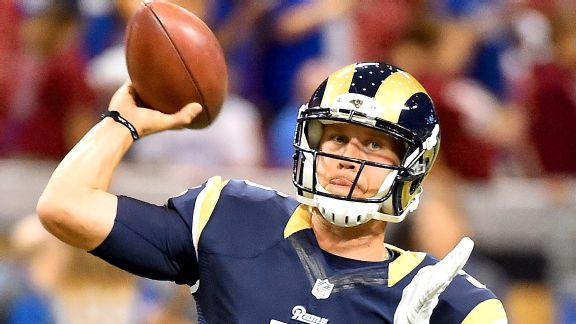 Nick Foles has had an interesting year to say the least with the St. Louis Rams, and got benched in Week 11. Foles was benched because head coach Jeff Fisher said that he felt the team needed some sort of an offensive boost that wasnÂ't going to come from Foles.
Case Keenum took his place, but now appears to be unable to play on Sunday because he has not passed the concussion protocol. Fisher had said that the plan was to ultimately have Foles start again, but it doesnÂ't appear that it was supposed to be this week.
The Keenum concussion is actually a pretty big deal, because he was not removed from the game when the head injury initially occurred. The RamsÂ' medical staff failed to realize the concussion, and is under fire in an NFL investigation about the situation.
In the spirit of playing it safe and avoiding any more trouble, the team is smart to avoid playing Keenum. Foles will likely return to the lineup on Sunday according to NBC Sports as a result of Keenum not being able to pass the intense protocol for concussions put in place by the NFL.
Foles' record this season is 4-5, and his completion percentage has been beneath 60%. He's throwing for just 6.6 yards per attempt, but 11.6 per pass completion. His quarterback rating is at a low 75.9. To put that into perspective, he had a quarterback rating of 119.2 in 2013 for the Philadelphia Eagles. Although Fisher worded Foles' benching in a way that seemed to flatter Foles, it ultimately seemed like a pretty way to say, "he's not getting the job done for us." Coming in to Week 11, the Rams had lost three of their last five match-ups.
The Rams play the 8-2 Cincinnati Bengals on Sunday.