:huh::whatisthis:
Quote:
---
Proposed trade No. 1:
New England Patriots quarterback Tom Brady to the Texans for Houston's 2015 first-round draft pick and wide receiver Andre Johnson


Before you scroll down to the comments section and leave the obligatory nasty note, consider that we asked a current NFL general manager if this incendiary, social media-exploding potential deal was plausible.

"Absolutely," he said. "It actually makes too much sense. The players in the Patriots' locker room know that their days are numbered. That's just the way it is in New England."

Tom Brady, the unlikely sixth-round draft choice who delivered three Super Bowl victories in a span of four years, knows this better than anyone. It happened to Drew Bledsoe, a franchise quarterback who lost his job to Brady early in the 2001 season, watched him win a Super Bowl and then was shuffled off to Buffalo ... for a first-round draft choice.

"If you play for the Patriots -- and, honestly, it doesn't matter if you're Tom Brady -- you're there as long as you're useful," Bledsoe said this past January in a television feature about the Patriot Way. "Tom will have his time, too. And he knows that."

That time, in our admittedly feverish minds, is now. Sure, the Patriots are probably on their way to an 11th division title in 12 years -- something that hasn't happened since the AFL-NFL merger -- but they haven't won a Super Bowl in nearly a decade. Three years ago, the Patriots spent a third-round pick on quarterback Ryan Mallett. He was not the Brady heir they imagined and wound up in Houston. There is a feeling within the New England organization that Jimmy Garoppolo, this year's second-round draft choice, might be that guy. He broke some of Tony Romo's most cherished records at Eastern Illinois, and, with Brady in what is widely perceived as decline, this transition could work.

The biggest factor in this trade is the Patriots' institutional arrogance, i.e., the belief head coach Bill Belichick has in his ability to do what's best for the team. Belichick's signature personnel moves feature the departure of a startling series of aging but still serviceable players: Bledsoe, Lawyer Milloy, Ty Law, Damien Woody, Richard Seymour, Mike Vrabel, Wes Welker and, just prior to this season, Logan Mankins.

His Houston counterpart, head coach Bill O'Brien, is a huge Brady fan, having served as his quarterbacks coach and offensive coordinator and witnessed Brady's past two Super Bowl appearances from the Patriots' sideline. Ryan Fitzpatrick was O'Brien's choice to run Houston's offense, but wouldn't the Texans much rather have Brady in the huddle, showing the kind of emotion they already have on the other side of the ball with J.J. Watt? The Texans, who won two games a year ago, feel like they're getting closer to serious contention. Jadeveon Clowney, this year's No. 1 overall pick, looks ready to come back and contribute. Brady, even if he's sometimes missing targets he used to hit, would be a big addition.

There's precedent, too. Even the great Joe Montana, whom Brady idolized while growing up in the Bay Area, was sent packing by the 49ers, along with a safety and a third-round pick, for Kansas City's first-rounder. The Patriots, of course, would rather have DeAndre Hopkins, a 22-year-old version of Johnson, but they'll likely be content with the receiver who is 11 years his senior. New England would hope Johnson can contribute like another 30-something pickup back in 2007: Randy Moss.

Joe Montana was be traded to the Chiefs at age 36. So why can't Tom Brady be jettisoned at age 37?
Here are the salary mechanics of the deal: To trade Brady before June 1, the Patriots would carry $18 million in dead money in 2015, the money left on his signing bonus. Cutting Peyton Manning cost the Colts $10.6 million against the cap two years ago, so there is a precedent for a large number when the salary is replaced by a rookie contract. Brady's contract is interesting. His salaries for 2015-17 (a total of $24 million) become fully guaranteed if he's on the roster for the last game of the 2014 season. Hmm.

After an embarrassing Week 4 loss to the Chiefs, there were rumors Brady was at odds with the coaching staff's offensive philosophy. Welcome to Houston, Tom.

"I see the logic, but based on the last few games, I think it's too early to get on the Jimmy Garoppolo bandwagon," former Redskins and Texans general manager Charley Casserly said. "I think Brady can still play."

Which is precisely why O'Brien and the Texans have to scoop him up. Brady knows their system, and he gives them instant credibility. The Patriots get a desperately needed wide receiver and a valuable first-round pick in return.

Last year, before he played the Broncos, Brady was asked in an ESPN interview how he was coping with the loss of Welker.

"I'm used to it at this point," Brady said. "It's just the way it is. You have to be mentally tough enough to put those things aside and still perform at a high level. Because if you don't, there's going to be someone else here ready to take your job."
---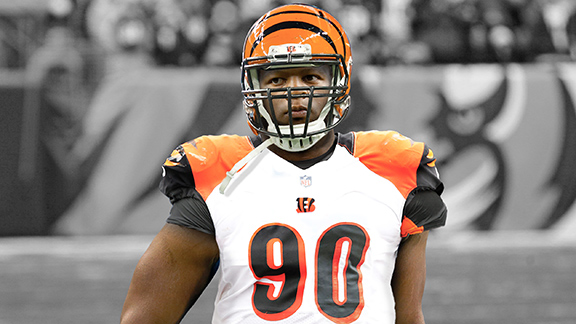 Quote:
---
Proposed trade No. 2:
Detroit Lions defensive tackle Ndamukong Suh to the Cincinnati Bengals for a second-round pick and cornerback Darqueze Dennard


Yes, the Detroit Lions -- of all teams -- are killing it on defense, and Suh, in the minds of gridiron gurus, is the best defensive tackle in the league.

But Suh's act seems to be played out in Detroit. By all accounts, he's gone after the season. He has already told people he would love to play for the Jets or Giants in New York -- his outsized personality might thrive there -- and it's been reported that the Dallas Cowboys and Chicago Bears, at the very least, are interested, too. So how could Suh possibly wind up in relatively sleepy Cincinnati midway through the season?

How did sometimes incendiary receiver DeSean Jackson find himself released by the Philadelphia Eagles after the 2013 season? How did Percy Harvin end up with the Jets? Sometimes, it's just time for both sides to part and start over.

Said one league general manager who wished to remain anonymous on the topic: "There's a feeling he won't be back. This is one way for the Lions to get something substantial for him."

Let's start with the Lions. Yes, they're super solid up front on defense, but is this team going to win the Super Bowl -- or even the NFC North? Some folks feel they'll go all-in with Suh in what looks to be his final year. Or ... they could pick up some help for the secondary and add a significant draft choice -- and make a serious run next year with a healthier Calvin Johnson.

The elephant in the room is Suh's gargantuan contract. The Lions could use the franchise tag on him for next year, but it would cost them $20 million, so that's very unlikely to happen. Even though his base salary is $12.555 million, he would cost the Bengals "only" ten-seventeenths of that for the remainder of the season -- $7.385 million, a salary-cap hit they can comfortably afford. Getting Dennard (Cincinnati's first-round pick in 2014 and a Michigan State product) from the corner-rich Bengals and a second-rounder would be a windfall. New defensive coordinator Teryl Austin has reinvigorated the Lions' defense -- Minnesota Vikings quarterback Teddy Bridgewater will probably have nightmares for the rest of the season -- and will find ways to compensate.

The Bengals, meanwhile, think they're close to a Super Bowl. But lately, being close hasn't been enough. The famously frugal franchise is feeling the heat after going 0-for-3 in the postseason the past three years (FYI, they allowed 77 points in those three games). Cincinnati hasn't won a playoff game in 24 years (remember the Ickey Shuffle?) and Suh could be the game-changer to fix that. Andy Dalton, Giovani Bernard and A.J. Green have the offense clicking, but the way the defense has been playing recently (107 combined points allowed to the New England Patriots, Carolina Panthers and Indianapolis Colts) leaves the Bengals desperate on that side of the ball.

The trick for Cincinnati? Win a playoff game, change the franchise's culture and then convince Suh to sign a new contract that won't destroy the salary cap. Hey, stranger things have happened in the NFL.
---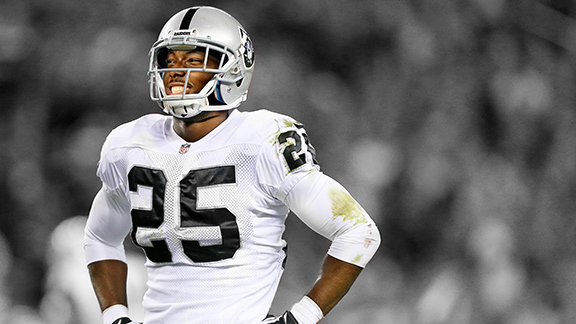 Quote:
---
Proposed trade No. 3:
Eagles trade running back LeSean McCoy, linebacker Brandon Graham and 2015 second-round and fifth-round picks to the Oakland Raiders for their (potential No. 1 overall) 2015 first-round pick

"Geez," former Redskins and Texans general manager Charley Casserly said with a laugh. "Put that one out there. If they see it, they might actually do it."

Consider this from the Eagles' perspective. We know general manager Howie Roseman likes to make deals (he's done the second most in the league since his arrival in 2010), and head coach Chip Kelly has demonstrated a willingness to part with valuable offensive assets (see DeSean Jackson). Like Bill Belichick, Kelly passionately believes in the system, which is to say, himself.

Last year, Kelly worked minor miracles with quarterback Nick Foles (27 touchdowns passes, two interceptions), but despite Philadelphia's fast start this season, there have been unmistakable flaws in the guy operating under center. For example, he has thrown seven interceptions through the first six games of 2014. It's quite possible Kelly is ready to move on from Foles.

What if we created a scenario in which he would be reunited with his former college quarterback, Oregon's Marcus Mariota? Kelly to Foles: Duck!

After the bounty of 2013 talent at quarterback, draft experts are suggesting there are only two consensus first-round talents at signal-caller (both underclassmen): Florida State's Jameis Winston ... and Mariota.

The Raiders are in the driver's seat to produce the pick that delivers Mariota, who has already mastered Kelly's mind-melting, slash-and-burn offense. There is a leap of faith required here, even with Oakland the NFL's only winless team. The Jets, Buccaneers and Jaguars all reached Week 8 with a single win, but the Raiders' difficult remaining schedule -- two games each versus the Broncos and Chiefs, plus the Seahawks and 49ers -- leaves them with the best chance to land the top pick.

Marcus Mariota has proven his dual-threat abilities are well suited for Chip Kelly's zone-read system.
The Raiders need bodies. This deal brings them four, two of whom can help immediately.

McCoy's salary cap number for 2015 is a heady $11.9 million, but it drops to under $9 million in 2016 and under $8 million in 2017. And the Raiders have plenty of cap space in the coming seasons.

Although McCoy led the league in rushing in 2013, Kelly seemed comfortable with Darren Sproles playing late in the recent oh-so-close game against the Rams. Plus, there are whispers of friction between Kelly and McCoy. Graham, a former first-round pick, has never quite been the player the Eagles imagined. In the 2014 draft, the Eagles were sitting with the No. 22 overall pick but didn't pull the trigger on Johnny Manziel because they believed either he wasn't the answer or Foles was. There are legitimate doubts about the latter. The Eagles can negotiate a new deal with Foles after this season but might be unwilling to give him a stout long-term pact. Foles hasn't demonstrated an ability to run Kelly's zone-read, and Mariota would allow him to expand the offense to its fullest potential. That's a prospect that would make the Eagles even more dangerous.

The Raiders likely will have a new coach next year. If the personnel department feels Derek Carr is the answer at quarterback, improving the talent around him is the priority. This trade is the best way to do it.
---
Quote:
---
Proposed trade No. 4:
Seattle Seahawks running back Marshawn Lynch to the San Diego Chargers for a 2015 fourth-round draft choice and running back Branden Oliver

Actually, the Chargers desperately need a center -- they've started four players at the position and placed two of them on injured reserve. Problem is, their best external options are probably Jeff Saturday and Matt Birk, who are retired and woefully undersized after drastic weight loss.

Let's send them the next best thing: a ferocious veteran running back who can put them over the top. Don't laugh. Through seven weeks, San Diego has the third-best point differential (plus-70) in the NFL. The Chargers think this is their year, and Lynch would thrust them into the frothy Super Bowl discussion.

At 28, he's not quite the beast he once was, but Lynch can still bring it. He's the Seahawks' leading rusher with 420 yards, and quarterback Russell Wilson (327 yards) is the only teammate close in that category.

Granted, this trade was much more plausible before Seattle jettisoned wide receiver Percy Harvin, sending the enigmatic playmaker to the Jets last Friday. Nevertheless, the Seahawks might not be done wheeling and dealing.

Lynch is still viable at 4.3 yards per carry, just over his career mark, but the Seahawks very possibly have considered parting ways with him after this season. They weren't happy with his training camp holdout. Seattle is paying Lynch $6 million this year, which prorated for a little more than a half season wouldn't be an awful hit for San Diego. The Seahawks would owe Lynch $7 million next year and he'd count $8.5 million against the salary cap. The Chargers, a little pressed for space, will find a way to make it work.

So this is house money for Seattle, a team that would be thrilled to get Oliver, a surprisingly effective rookie free agent out of Buffalo who is the leading rusher of the Chargers' injury-riddled running backs corps. The Seahawks are comfortable with Robert Turbin and Christine Michael as backup RBs. The salary swap is attractive because the Seahawks -- even after unloading Harvin -- are going to need all the space they can find to lock down Wilson.

The Seahawks may not be the devastating opponent they were a year ago, but they are still formidable. They signed defensive backs Richard Sherman and Earl Thomas to long-term deals and have a strong core in place on both sides of the ball. Moving on from Lynch before next year and finding a young set of replacement legs allows them to get into position for negotiations with their young, gifted quarterback.
---
:dead: