So, I haven't really been posting any reviews recently. Mostly out of being busy. Among other things, I just moved, just got a new job, and have been working on a sh*t ton of projects. But, I haven't stopped seeing movies. So, this thread is an attempt to give reviews for the films I've seen, but didn't review. Starting with....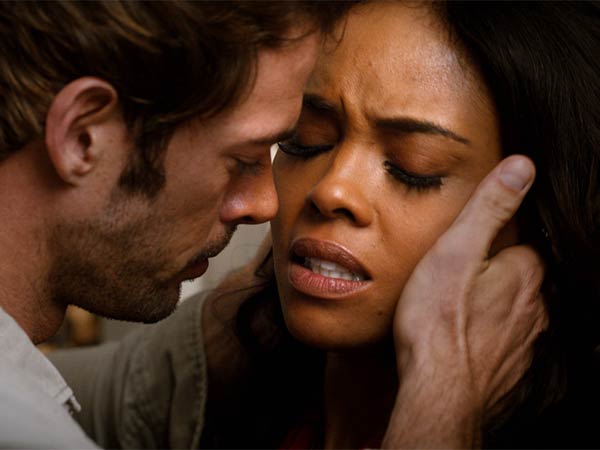 ADDICTED
Quote:
---
"Addicted"... I thought I saw this movie last year when it was called "Temptation". Essentially this is to "Temptation" what "True Blood" is to "Twilight". It's the same sh*t, except there's nudity this time. So much of what makes this movie irritating is that it's shot like late-night Cinemax porn. There is absolutely nothing erotic about anything that's happening.

I. Hate. This. F*cking. Movie. I hate it so much. What I hate about it is, like Tyler Perry's sh*tfest, there is very very little subtlety. Every character is cartoonish, and every situation is contrived just as an excuse for more sex scenes. Speaking of, these scenes aren't sexy at all... Correction: they aren't sexy unless you're some lonely thot who reads this bullsh*t alone on a Friday night instead of going to the nightclub. Let's talk specifics: So, we have our protagonist played by Sharon Leal. She's happily married, has a good job, and has beautiful kids. Yet, she has a sex addiction (apparently). So, when she meets this artist, she ends up sleeping with him, which plunges her deeper into her addiction (apparently).

This "addiction" is defined in such a murky way, and seems to only serve as an excuse for more unerotic sex scenes. The fact that this film takes something so serious and reduces it to just a f*cking device to string along softcore porn is f*cking disgusting. Technically, the film is solid in the sense that it looks a lot like a music video... Flashy and nice, but with no soul. The director Billy Woodruff ("Honey", "Beauty Shop") isn't so much interested in directing so much as he is interested in shoving images of male ass at the camera.

I know... I'm talking so much sh*t about this movie. It sounds like I'm bitter, right? Well, yeah... I kinda am. This movie (and the novel it's based on) get labelled as being about the black experience. It's not. But, this is the main selling point of these films... That they're written and directed with the black point of view... Why? Because, the characters happen to be black? These people are blank slates. You could change the race of everyone to Latino or Asian, and it would essentially be the same exact movie... Which begs the question, what is this movie (and its novel) saying about the black experience, or black female sexuality (which is still generally unexplored territory on film)? The answer: not much. This film is ultimately empty. And it is, indeed, one of the worst films I've seen this year. Avoid at all costs.
---
SCORE: 2.0 (out of 10) = CRAPPIER
NEXT UP
GOD'S NOT DEAD
Quote:
---
"God's Not Dead" is the kind of film Tyler Perry would make if he were white. This is a terrible terrible movie. Built from the premise of a Christian college student who goes up against his Atheist professor in a series of debates, it seems to not understand much about Atheists... And, understands even less about Christians. Overflowing with a riot of subplots that reads more like 5 different scripts got mixed together after being dropped on the floor, the film is a near-unwatchable mess. Now, I know what you're thinking... "But Omega, aren't you a Christian?" Yes, I am. That doesn't necessarily mean this film isn't bullsh*t.

What I find most insulting is how vapid and insipid the characterization (if you can even call it that) is. All the "Atheists" are given superficial character arcs to explain away their beliefs with borderline offensively simplistic logic. Those characters are treated with contempt. If you think the Christian characters are given much better treatment, you're right. Because, the Christian characters are given moot character arcs that feel intentionally less-dramatized than the ones of the atheist characters. The extent of how dramatic those subplots get is a Pastor and his Black Missionary Buddy trying to get a rental car to go to DisneyLand. No, I'm not making this up.

Then, there's weird cameos like the filmmakers are gloating about the fact that they put idiots like one of the "Duck Dynasty" as*holes in a movie. By the way, Kevin Sorbo aka Hercules plays the Atheist professor. He's an Atheist because his mother died of cancer, or something. Wow.... What a cop out. Every Atheist character is treated with similarly over-simplified and insulting dismissiveness over the course of the film. And then, there's a storyline about a Muslim girl who is secretly attracted to Christianity, much to the chagrin of her father, who disowns her.

In the father's defense, this movie is bullsh*t.

So much of what happens in this movie deeply bothers the ever-loving sh*t out of me. Everything about this movie pisses me off. Let's talk about the film's technical aspects... This movie wouldn't have been out of place on the Disney Channel in the early 2000's. The production values never reach far beyond that of a straight to DVD film you might find at a Christian bookstore. The film is awkwardly edited, weirdly paced, and straight-up-and-down just bad.

"God's Not Dead"... After watching this movie, he might as well be.
---
SCORE: 1.0 (out of 10) = CRAPPIEST
That's enough for now. Tomorrow, I'll post up reviews for "Dracula Untold" and "The Judge". And, as always, thanks for reading.