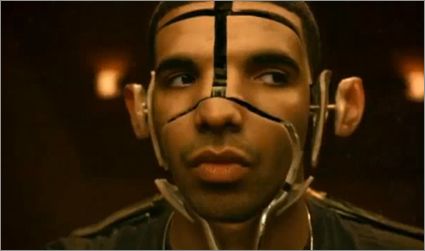 We all know machines will replace us eventually. But now it appears they have learnt to rap.
Eric Malmi at the University of Aalto, Finland, has created a machine-learning algorithm called DeepBeat that is able to generate its own raps—which they claim rivals human MCs in their complexity of rhymes. Using a database of over 10,000 tracks from 100 artist, the algorithm looks for 'assonance' rhymes (the repetition of similar vowel sounds, such as "crazy" and "baby"), and strings together full raps from existing lines. They start it with one line, and get the computer to search the database for another line on the same subject that flows well—and then repeats the process to find another the follow that line, and so on.
And while a lab in Finland might be as far from spitting bars on a Bronx street corner as possible, its creators reckon it can make better rhymes than a human rapper. They claim "DeepBeat outperforms the top human rappers by 21% in terms of length and frequency of the rhymes in the produced lyrics." It can't all be about statistics, yo, you've got to have feelings and soul.
Here's one it generated on the subject of 'love':

For a chance at romance I would love to enhance
But everything I love has turned to a tedious task
One day we gonna have to leave our love in the past
I love my fans but no one ever puts a grasp
I love you momma I love my momma — I love you momma
And I would love to have a thing like you on my team you take care
I love it when it's sunny Sonny girl you could be my Cher
I'm in a love affair I can't share it ain't fair
Haha I'm just playin' ladies you know I love you.
I know my love is true and I know you love me too
Girl I'm down for whatever cause my love is true
This one goes to my man old dirty one love we be swigging brew
My brother I love you Be encouraged man And just know
When you done let me know cause my love make you be like WHOA
If I can't do it for the love then do it I won't
All I know is I love you too much to walk away though
It's surprisingly tight, if a bit nonsensical. Maybe in the future we'll all be listening robot MCs? (Probably not).
http://mashable.com/2015/... _source=feedly