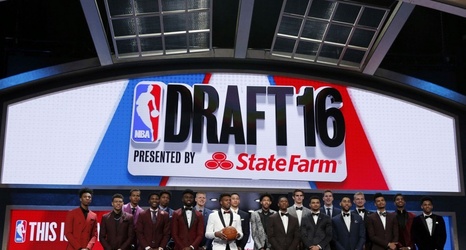 Atlanta Hawks - B+
Quote:
---
Taurean Prince, SF, Baylor (No. 12 pick)
DeAndre Bembry, SF, St. Joseph's (No. 21 pick)
Isaia Cordinier, SG, France (No. 44 pick)

Atlanta clearly needed to improve their defense after losing DeMarre Carroll in free agency prior to the 2015-16 season, and both Prince and Bembry are defensive specialists. Look for both to compete for playing time - and even for a starting spot - next season. Cordinier is nothing more than a draft-and-stash prospect (someone who stays and plays overseas while Atlanta maintains his NBA rights and can exclusively sign in future seasons), which falls in line with Atlanta's second-round strategy.
---
Boston Celtics - D+
Quote:
---
Jaylen Brown, SF, Cal (No. 3 pick)
Guerschon Yabusele, PF, France (No. 16 pick)
Ante Zizic, C, Croatia (No. 23 pick)
Demetrius Jackson, PG, Notre Dame (No. 45 pick)
Ben Bentil, PF, Providence (No. 51 pick)
Abdel Nader, SF, Iowa State (No. 58 pick)

Boston really wanted to trade their picks, but weren't able to do that outside of two second-rounders they gave up. Brown is essentially a poor man's Jae Crowder, and while he should be in their rotation immediately, he doesn't project to be anything more than a defensive specialist. Yabusele and Zizic are draft-and-stash guys, and Nader has virtually no chance of making the roster. However, Jackson and Bentil were absolute steals in the second round and will make an impact sooner rather than later. They keep the Celtics from getting an F.
---
Brooklyn Nets - C
Quote:
---
Caris LeVert, PG/SG, Michigan (No. 20 pick)
Isaiah Whitehead, PG, Seton Hall (No. 42 pick)

LeVert is coming off two foot surgeries and was a puzzling pick in the first round because of that, but Whitehead was a steal. The Brooklyn-native is a real gamer that excels at attacking the basket. He should see a lot of playing time right away for a Nets team that really needs a point guard.
---
Charlotte Hornets - D+
Quote:
---
Traded Malachi Richardson (No. 22 pick) to Kings for Marco Belinelli

Charlotte wanted to trade this pick to save cap space to re-sign some of their free agents, but instead took on money in this deal. Belinelli is an established vet that fits their three-point shooting offense, yet he won't be anything more than a back-end-of-the-rotation guy.
---
Chicago Bulls - B
Quote:
---
Denzel Valentine, SF, Michigan State (No. 14 pick)
Paul Zipser, SF, Germany (No. 48 pick)

Valentine is the versatile swingman that can do everything on the court, and should play some point guard with Derrick Rose out of town. There are concerns about his knees, but there's no doubting Valentine's talent. He should see immediate playing time. Zipser is the high-upside draft-and-stash prospect.
---
Cleveland Cavaliers - A
Quote:
---
​Kay Felder, PG, Oakland (No. 54 pick)

Cleveland traded into the draft to acquire this pick from the Hawks, and they hit a major home run with the pick. Though Felder is really short (5'9", 175 lbs), he was one of the most productive players in college basketball last season, putting up 24.4 points and 9.3 assists per game. He'll likely spend some time in the D-League, but his ability to get his own shot and create for other will keep him in the league for a long time.
---
Dallas Mavericks - B-
Quote:
---
A.J. Hammons, C, Purdue (No. 46 pick)

Dallas needs big man depth, and taking a chance on a player who was one of the best big men in the country is a no-brainer. Hammons doesn't have a lot of upside, but can contribute as a rebounder and shot blocker.
---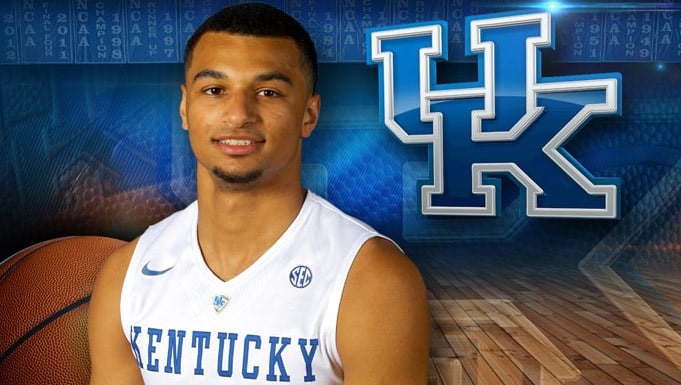 Denver Nuggets - A
Quote:
---
Jamal Murray, SG/PG, Kentucky (No. 7 pick)
Juan Hernangomez, PF, Spain (No. 15 pick)
Malik Beasley, SG, Florida State (No. 19 pick)
Petr Cornelie, PF, France (No. 53 pick)
Daniel Hamilton, SG, UConn (No. 56 pick)

Denver desperately needed shooting, and all of their first-round picks were shooters who can contribute right away - and Murray should slide right into the starting lineup. Cornelie is a draft-and-stash and Hamilton is a D-League prospect, but both guys have a bunch of potential.
---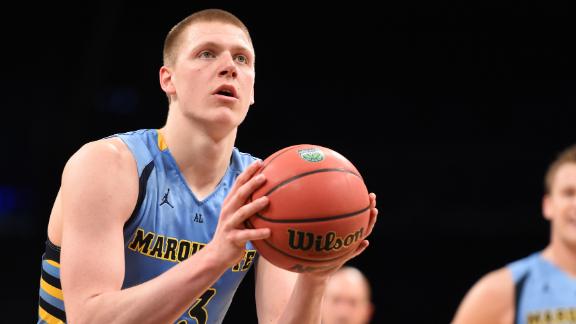 Detroit Pistons - A-
Quote:
---
Henry Ellenson, PF/C, Marquette (No. 18 pick)
Michael Gbinije, SF/PG, Syracuse (No. 49 pick)

Ellenson is an excellent pick-and-pop option and will give Detroit a legitimate stretch four that can rebound at a high rate, making him the perfect pair for Andre Drummond. Gbinije also has a great chance to make the roster. The Pistons need a backup point guard, and he played the position at a high level for Syracuse last year, averaging 17.5 points and 4.3 assists per game.
---
Golden State Warriors - C-
Quote:
---
Damian Jones, C, Vanderbilt (No. 30 pick)
Patrick McCaw, SG, UNLV (No. 38 pick)

Jones was drafted to essentially be Festus Ezeli's replacement as Golden State's backup center. He has good size, athleticism, and runs the floor well, but he plays extremely lazy at times and often fades out of games. McCaw is a project who will spend time in the D-League.
---
Houston Rockets - C
Quote:
---
Chinanu Onuaku, C, Louisville (No. 37 pick)
Zhou Qi, PF, China (No. 43 pick)

Houston hopes one of these two can stick with their team, but they're two different types of players. Onuaku is a bruising rebounder with a raw offensive game, while Qi is a 7'2" stretch four who needs to get stronger and get better defensively. Qi will be a draft-and-stash guy, and Onuaku will likely rotate between the end of the bench and the D-League.
---
Indiana Pacers - C+
Quote:
---
Georges Niang, PF/SF, Iowa State (No. 50 pick)

Niang was an excellent pick in terms of getting a second-rounder who will make your roster. However, his game has virtually no more room to grow. Though he lacks athleticism, Niang has rare playmaking skills for a power forward and is a reliable rebounder. Those skills will be enough for him to stay at the NBA level.
---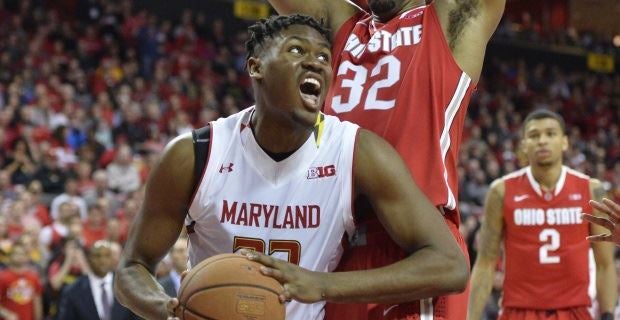 Los Angeles Clippers - B+
Quote:
---
Brice Johnson, PF, North Carolina (No. 25 pick)
David Michineau, PG, France (No. 39 pick)
Diamond Stone, C, Maryland (No. 40 pick)

The Clippers needed big man depth, and they got great value late in the draft in Johnson and Stone. Johnson is an athletic stretch four who's mid-range jumper will allow him to be a nice counterpart to DeAndre Jordan and Blake Griffin, while Stone is a bit more of project. An excellent low-post scorer, he must get in better condition and improve defensively. Both should play for LA this season, while Michineau likely won't come to the NBA for a few years.
---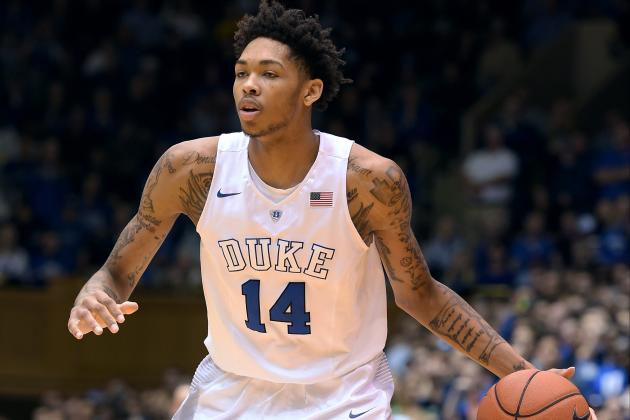 Los Angeles Lakers - A+
Quote:
---
Brandon Ingram, SF/SG, Duke (No. 2 pick)
Ivica Zubac, C, Croatia (No. 32 pick)

Anytime you can land a player like Ingram, an instant starter and potential All-Star, you've had a great draft. When you can also get a strong big man in the second round (who was projected to be taken in the first round) that will contribute right away, you've had an even better draft.
---
Memphis Grizzlies - B+
Quote:
---
Wade Baldwin IV, PG, Vanderbilt (No. 17 pick)
Deyonta Davis, PF, Michigan State (No. 31 pick)
Rade Zagorac, SF, Serbia (No. 35 pick)
Wang Zhelin, PF, China (No. 57 pick)

Baldwin is a long, athletic guard who should compete for minutes as a backup in Memphis, but he's another player who isn't always aggressive and can fade out of games. The real gem of his class for them was Davis, who they got in the second round even though he was projected to be a lottery pick. His athleticism and shot-blocking ability make him an impact player off the bench while he develops into a starter. Zagorac and Zhelin are both draft-and-stash guys.
---